Getting To Know Maya — The Woman Behind Tailstyle
Thank you for caring!
You may not know this but Tailstyle is the realization of a lifelong dream of mine. Ever since I could remember, I've planned and thought about providing high-quality items that my customers are sure to love while helping abandoned and neglected pets.
Every product on this site is carefully handpicked and reviewed for quality, comfort, durability, and cuteness! We also donate ten percent of our profits to animal welfare organizations.
Since I value transparency and authenticity with my customers, allow me to share a bit of my history and how this site came to be…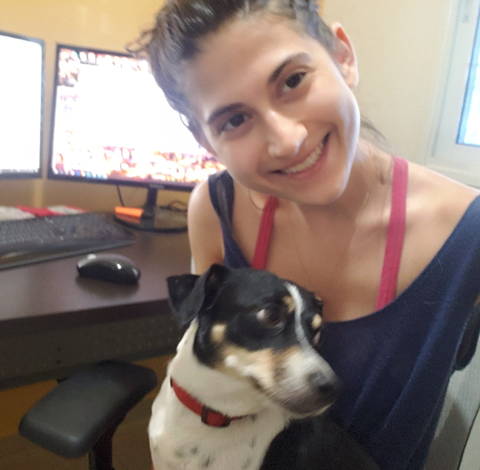 I was born in Israel and grew up in many places, spending most of my growing up years in the small town of Zichron Yaacov (Jacob's Memorial). I lived with my mother who had many personal issues and so most of my young life was filled with turbulence and instability. Since my mom had many financial challenges and made poor decisions, we often had to move from one apartment to another.
The Man Who Inspired Me To Become an Entrepreneur
Though my parents were separated, my one saving grace was my father.
He would often visit me and we would spend time together. I loved spending time with my dad. He was an entrepreneur who had fallen on hard times. One thing never changed though and that was his love for business.
We would spend many hours talking about possible business ventures and I came to love the idea of being my own boss, having financial independence, and having something of my own.
Turning Point: Heart Attack
You can imagine how devastated I was when he had a heart attack — not his first but certainly his last. I was 15 at the time and we were in the midst of planning my moving in with him. My dreams of living with my dad were dashed. Things were getting worse at home with my mom and I decided to run away for survival.
My older (half) brother Dotan helped me a lot at this point. He would let me crash on his couch and introduced me to his friends who helped me a lot as well. I met a lot of nice people who helped me and let me watch over their pets for them while they were on vacation. It was the closest I would come to having a real home, at least for the next several years. However, there were also many nights when I didn't know where to go and I'd walk around aimlessly.
I spent three months in a government facility for young people like myself who had nowhere to go and two months with a foster family — neither of which worked out.
Eventually, I found out about an animal rights organization in Tel Aviv called Animals Now (formerly Anonymous). They were offering volunteers a place to sleep in exchange for volunteering . It was exactly what I needed so I joined them.
Though I love animals, it was hard work. To make ends meet, I also took on other jobs like working at clothing and ice cream stores. I often worked 14 hours a day with shifts that ended between 2 to 4 AM.
By the time I was 18, I had enough experience and skills and began earning a more decent wage from a popular bookstore in Israel.
Because I was earning a bit more, I was able to go back to school and finish my high school studies. I later went on to the open university and took courses that taught me how to own and operate my own business.
At the age of 21, I began experimenting with my own Amazon brands. Four years later, I started my own digital marketing agency. I would fail, sometimes go into debt, and try again. I also worked for other digital marketing agencies.
I felt discouraged many times and would doubt myself but before long I'd pick myself up and keep trying.
For several years, I worked as a digital marketer and business consultant for other companies full-time or as a freelancer.
In 2020, I started an e-commerce website for pets and eventually came up with Tailstyle. In 2021, on my 29th birthday, I decided to leave my job for the last time to focus on growing my brands and business.
Maybe I didn't have the best start in life but I stayed true to the dreams that my father planted in me. My brand and my support for animal welfare organizations are a reflection of those dreams and my past.
Today, I'm enjoying life with my wonderful and supportive husband Yochai, and my dog Lucha.
My fur baby Lucha is very particular and has some health issues. While sweaters and pet clothing are really very cute, they're also functional. Lucha, for one, is always cold and needs to be bundled up in a sweater (or 3 blankets next to the radiator).
In my experience, it isn't easy to find a reliable place that sells quality clothing and accessories for cats and dogs. I saw this gap and wanted to fill it with Tailstyle. You'll notice that our selections are carefully curated and each piece is chosen with care.
I also wanted to merge my interest in business with my desire to provide animals with better homes, treatment, and care while encouraging others to do the same. By automatically donating ten percent of my earnings to animal welfare organizations, I'm able to fulfill all my dreams with the Tailstyle business model.
Customers get high-quality items while animals have a chance at a better life. It's a win-win situation.
As you can see, my business and passion for helping animals have transformed my life. I am grateful for everything I have today and would like to share what I have with others.
If you feel the same way or are just looking for a piece of quality clothing for your dog or cat, visit our store and see if there's anything you'd like. We can make life better for precious pets everywhere one item at a time.
Thank you for hearing me out. If a pet has touched your life in a meaningful way and you have your own story to share, I would love to connect with you and hear your story. Many great friendships are born from common ground such as a shared love for animals. Send me a message at maya at tailstyle.com